Watched the movie Sura and could not control myself from writing about it.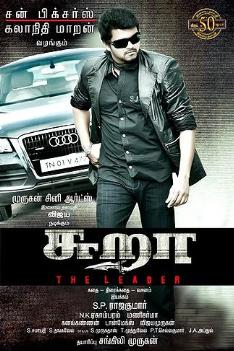 Vijay reminded me of MGR in a lot of ways – trying to leverage every single dialogue as a message to the public that he will protect them and do good for them. Even though Vijay is trying all this, I do not know of anyone having such a success as MGR had.
Tamanna is the herione of the movie – who comes with a horrible voice – not sure who gave the dubbing or if it was her attempt at trying to talk – it was quite bad. As in many other movies in Tamil, she just added to the glamour quotient and disappeared as soon as the director decided to switch focus to the key story line.
The songs were ok, definitely did not impress me.
There is one main villian who just keeps talking and getting beaten up by Vijay all the time.
The only difference between Vijay's dialogue's now and the ones before a year is that he has stopped talking shabbily about the ladies – I still can't forget the movie in which he blames the heroine for dressing up nicely (the way she wants). These actions clearly make me guess that he is planning to jump into politics next.
Overall, it was a total waste of time and I recommend anyone thinking about watching this movie not to waste their time watching it. Actually, I would like to even recommend not to watch at least one or two more Vijay releases in the near future as I can visualize how boring those would be with all these crowd friendly dialogues. Stay away!

Get Your Own Tamil Songs Player at Music Plugin