Watched Ajit's latest movie called Veeram.
Veeram means bravery in tamil. Yes, this movie requires a lot of bravery to watch it.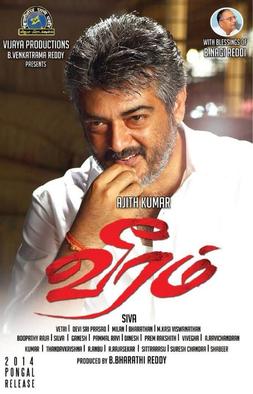 There must be around 15 scenes in the movie. At a very conservative average, Ajit kills about 20 people in each scene – so I witnessed about 300 killings during the two hour movie yesterday. So did my 11 year old son – who is now getting used to iron rods and chains used as weapons anytime to beat any one up – so I would not be surprised if one day I hear a complaint that my son did the same, or got beaten up while trying to do the same.
Due to this reason, I feel I am not brave enough to watch Ajit movies any more – at least for a year.
Yes, I have decided to take one year break from any one who throws crap at me using various excuses (Eg. "We only show what happens in real life – I am an actor, dont blame me.") You can keep that crap to yourself and will earn my viewership when you learn how to act in better movies.
I will not watch any more Ajit movies in 2014 – just trying to take a year's break from his movies. If I hear better reviews about any other movies of his, may be, I might end up watching one in 2015, but that is not for sure.