Varuthapadatha Valibar Sangam is a movie intended by the producers and director as a full time pass movie. I felt it was a 'part time' time pass movie (once in five minutes I felt there was a good joke worth laughing!)
Siva Karthikeyan has been the latest entrant in the list of new tamil heroes. The rate of new heroes is going up rapidly in the past few years, but Siva Karthikeyan seems to be here to stay with his consistent performances in the past few movies.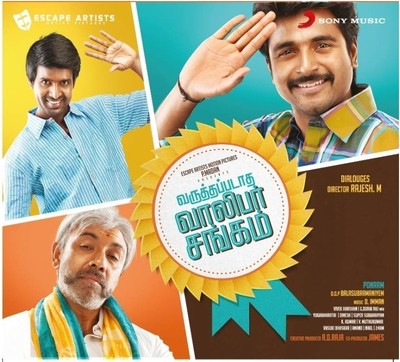 Sri Divya is the heroine and she looks pretty in her school uniform – and for a first timer, has done a very good job in the movie.
Sathyaraj plays the role of the father of the heroine and adds a lot of flair to the movie. I would say, without him the movie would have lost the missing link in the movie.
The story starts with our hero Siva Karthikeyan, who plays the role of a young guy who does not do anything useful in life, who tries to get the teacher from the girls school to fall in love with him, ends up falling in love with Satyaraj's daughter. From then on, it is all about how he fights it out with Satyaraj.
The story is a flashback explained after Satyaraj is arrested for killing his daughter Sri Divya and Siva Karthikeyan and is actually told in a very interesting way.
Do not go for this movie after a heavy dinner as you will fall asleep – as at times in the middle you feel like it is too boring – but just when you are about to doze off, you will come across one or two very good timing jokes – mostly taking a dig at the parents or girls who are opposed to one sided love proposals from the young boys. Such jokes attracted a lot of cheering from the youth in the theatre – I am guessing they got someone to support their moves in this aspect.
The songs are ok, nothing great about it – one of the songs is sung by Siva Karthikeyan himself.
Overall, I am not sure what social message they want to give to the audience, but I felt the message was: Stand in front of a girl's school, keep trying one girl or the other and some one will fall in love with you if you continue to persist – then some how convince the girl into marrying you and the father in law will take care of your future. What a pathetic message! I am glad this movie did not claim to be a serious movie and is projected as a full time pass movie.
In any case, for time pass sake, it is a movie that can be watched once – but definitely not more than once!