After a long wait for my turn to get a Netflix DVD, I watched My Name is Khan last month and realized it was worth the wait. My good old buddy had recommended this one movie last year and ever since I have been wanting to watch this movie and I am very happy that I watched it.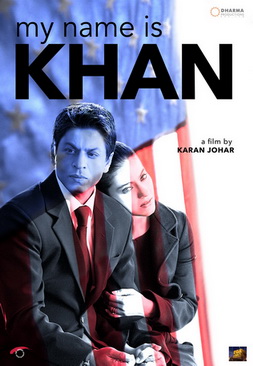 My Name is Khan is a movie about a muslim guy in the US with Asperger's Syndrome which is a special kind of autism, due to which a person's ability to interact with others is heavily limited – at the same time they also tend to have special skills.
Shahrukh Khan has played the role of this person Rizwan Khan, who is challenged in many ways due to his health condition, but has the special skill of doing creative things. From his childhood he impresses his parents and everyone around with his skills, while his brother goes to the US and later brings him also there.
Once Shahrukh goes to the US, that is when his brother's wife finds out that he has Asperger's syndrome and then they try to help him out to cope up with his condition. He then meets Kajol (Mandira) and falls in love with her, and later gets married to her too. Due to the widespread anger against muslims in the US after the September-11 attacks, Rizwan and Mandira realize that their family is also impacted just because his last name is Khan.
Then Shahrukh sets out on a venture to meet the President and the way he goes about doing noble things is a good lesson for all of us on how any one can do noble cause as all that it requires is the will do to good things – which has taken lower priority in life for most of us.
Kajol and Shahrukh Khan have come back for the first time togther in this movie after Kabhi Khushi Kabhi Gham in 2001. I have to admit the chemistry still exists, though Kajol does look like an aunty and not the bubbly Kajol anymore.
The songs are ok, as I do not remember any song – but most of the movie is shot in beautiful locations across the US.
The opening scene of the movie at the airport reminded me so much about myself. In this scene, as he is a single muslim individual ready to travel by flight, the security agents frisk him and later realize he is just another ordinary human being without any bad intentions to hurt anyone. The way he says 'My Name is Khan and I am not a terrorist' has stuck to my mind and I am so tempted to tell that to the airport officials every time I fly alone and am 'randomly' picked every time for extra frisking. I do understand a movie is a movie and all goes well in movies while in real life it is very different, so I will continue with my usual approach at the airports – do what you are told, with a smile 🙂
Overall, I would rate this movie as one of the best movies I have watched this year and highly recommend it to anyone.