Just watched the movie Dabangg and thought I should write about it right away.
Dabangg was recommended very strongly to me saying I would love it – what a crappy movie – I wasted over two hours hoping I might like at least one scene.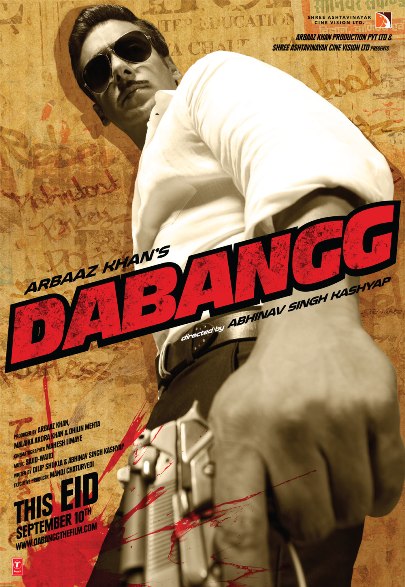 The movie goes like a typical flop tamil movie where Rajinikanth wannabies try to do things like him and end up miserably. Salman Khan comes as a crazy inspector who just does whatever he wants in the movie – not sure if it is because of his role as an inspector or if it is because he is the brother of Arbaaz Khan.
The director has taken scenes from 200 different movies and made a movie out of it. I have heard that this movie is a hit in rural India, and am worried this might lead to a trend where more and  more directors try to take movies like this, which will only make the average quality of movies to go down.
Sonakshi Sinha, the daughter of Shatrugan Sinha plays the role of the heroine, who comes as a poor girl in the same neighbourhood where Salman Khan is the inspector. She starts to like Salman over a period of time and the craziness continues. I was told she lost more than 25 kgs for this movie and that Salman trained her by making her run more than 5 kilometers every day. She does look slim in the movie – but please be ready for a shock if you do a google search on Sonakshi Sinha where you can find her photos taken long before this movie was made.
The songs in the movie are ok, but I heard the songs and the movie were a big hit in B and C regions in India.
Overall the movie is a total waste of time and I would not recommend it to any one.

Get Your Own Hindi Songs Player at Music Plugin