Finally went for Endhiran movie last night and it was an interesting experience.
All these days I have only heard good reviews about Endhiran. As I have mentioned earlier I waited to watch this movie until the ticket rates become normal and now that it is normal, I decided to watch this movie last night at Big Cinemas on Oak Tree Road, New Jersey.
The movie goes on nice until the interval. All the scenes are perfectly rendered the way we would expect a Rajinikanth movie to be – with nice bit of comedy, good songs, etc.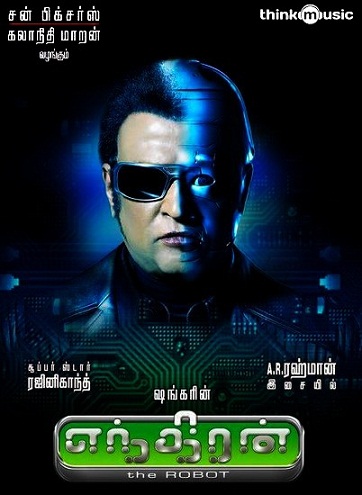 Rajini is awesome in the entire movie. If not for him, I doubt how many days this movie would have run.
His Dr.Vaseegaran version made me think for the first time we are actually seeing the real Rajinikanth, as I have heard he is a very straight forward and noble man in real life.
His good Chitti version reminded me of his role in his movies in his younger days (Guru Sishyan, etc), where he was getting to be accepted by many ladies as a handsome man 🙂
His bad Chitti version reminded me of his movies in the past where he has performed excellently in darker roles such as Moondru Mugam, Polladhavan, Johnny, etc.
Aishwarya Rai looks very beautiful throughout the movie.
One thing I noticed about Aishwarya Rai yesterday, which I did not realize all these days, is that she has worked really hard in maintaining her physique, which is an important aspect in making sure she looks fit and good in any costume. Since Aishwarya Rai is almost 37 years of age now, she is an inspiration to all 30+ women who hope that they can also look beautiful inspite of their age. A word of caution to all these ladies out there: what you see in Aishwarya Rai's fitness is only the end result of hours and hours of hard work. (Read my blog on What is Victory for a full explanation of this). So please do remember that the face masks and mascaras can only help a little bit, while continuous exercise and fitness will help you carry yourself really well – as well as it does for Aishwarya Rai.
Danny Denzongpa has played the role of a villain in this movie. I think his voice is given by Raghuvaran, though I am not sure as Raghuvaran passed away long before this movie was released. Whoever it is, the voice sounds very similar to Raghuvaran's. Danny has done a good job in his role and makes us all dislike that character 🙂
There were some loose ends not tied up in the movie.
The two assistants of Rajinikanth, who actually support the bad guy, do not get any form of punishment at any point of time. I guess it is ok to help the bad guys as long as you are not the bad guy 🙂
One more funny part was when they showed all maamis (who looked like vegetarian maamis) and they showed non-vegetarian cooking with shrimp, lobster, etc.
In one of the fight scenes, I saw a non-Indian guy as a part of the villian group in a fight in local Chennai train with Rajinikanth. I wonder if Indian movie industry has started getting foriegners for specialized positions (somewhat an equivalent of the H1 visa in the US), the position in this scenario is the requirement for a person with a foriegner look, ready to come and get beaten up in front of the camera from Indian movie heroes. I know it is one of those requirements where we cannot find many suitable candidates within India 🙂
Towards the end, there is a 30 minute climax showdown which I have named as 'Robotic Diarrhea'. I heard someone say that they got a headache after watching that climax and were waiting for it to get over.
I really wish Shankar had not given huge amounts of money to those animation graphics people in Hollywood movies and had actually put a limit on the budget. It appeared as though he had lots of money to spend, which was given in abundance to these graphics artists, who just spent it all recreating their fantasies they had while watching Terminator and Transformer movies.
The movie runs for a full 3 hours. If the 30 minutes climax was reduced to 5 minutes, I would have rated this movie as one of the best Rajini movies I have seen in recent times – and it would have saved almost half of the cost of the movie too.
In any case, though Endhiran is the most expensive Indian movie as of today, I heard the movie has also already become the highest revenue grossing film in Indian movie industry. This is a very good news as I believe it will help Kalanidhi Maran get closer to my prediction about him to become the richest man in the world.
Overall, this movie can surely be watched at least once as it is a good entertaining movie – but definitely far below my expectations from a Shankar / Rajinikanth movie.