Welcome To Sajjanpur is a comedy movie that features Shreyas Talpade and Amrita Rao. This movie is directed by Shyam Benegal – I have not seen a Shyam Benegal movie after those good old days of Doordarshan where we used to watch regional language movies at 2pm on Sunday afternoons 🙂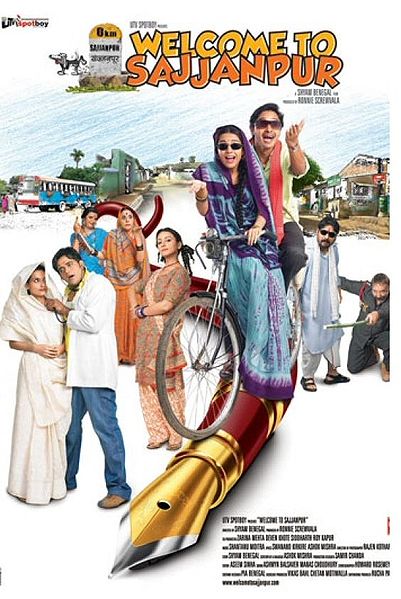 The main story of the movie revolves around Shreyas Talpade who is a 'letter writer' who is the only educated guy in a village, where he is the only guy who can write and read letters for the villagers. While his dream is to become a writer who writes novels, because of his laid back approach, he decides to open a small shop ( ie. getting a table and a chair to be placed below the banyan tree next to the post office 🙂 ) where he charges people two Rupees for writing a letter and one Rupee for reading their letters.
Shreyas starts getting emotional in the way he reads and writes other people's letters and it also lands him in trouble.
Amrita Rao comes in the movie as Kamla, a young married lady, whose husband has gone to Mumbai to make ends meet and is dreaming of her husband returning home one day to take her to Mumbai. Shreyas is a childhood friend of Amrita's and gets to meet her when she comes to him to read a letter from her husband. Due to his attraction towards her, Shreyas writes letters to her husband with his own words and makes up his own story while reading Amrita's husband's letters to him. In the end, his respect for her husband grows when he learns about the source of how the husband is getting money to keep his wife happy. He then goes out of his way to help them get together.
Though the movie goes along giving the impression of a comedy movie, Shyam Benegal has shown the blind faith and misbeliefs of the uneducated people in villages in India very well. In one scene, the mother writing a letter to a astrologer about her daughter's birth sins and the astrologer recommending that she should marry a dog born on a saturday is the best of all. Another one is where the goonda ex-leader of the village comes and explains to Shreyas how the tiny girl raped his son who weighs a tonne, and how then she killed herself 🙂 . These are all scenes that each one of us can relate to in one way or the other about the nuisance that prevails in India even today and Shyam Benegal has just brought them out in a very nice way.
This is the fourth movie of Shreyas Talpade that I am watching this year – I really hope I do not become a Shreyas Talpade fan. I think the speciality about Shreyas is that he does not look special – he just looks like an ordinary guy next door. I am also noticing that he always comes in movies which have a good scripts, especially the non-commercial, non-masala ones. It is good to see an actor perform this way as it brings out the real talent in him.
Overall, if you are looking for good time pass movie, this is not the one. If you are in the mood for some serious thinking and getting to know about the reality in Indian villages, watch this movie.
Once again, I got to see this movie on Netflix and I am now guessing how many lesser movies I would have watched if Netflix was not around.

Get Your Own Hindi Songs Player at Music Plugin