I got a chance to watch Veppam movie at PVR Cinemas in Chennai in August. Just realized I missed writing about it.
Veppam is a movie that we happened to watch because we did not get tickets for some other nice movie that was running at the same time in PVR.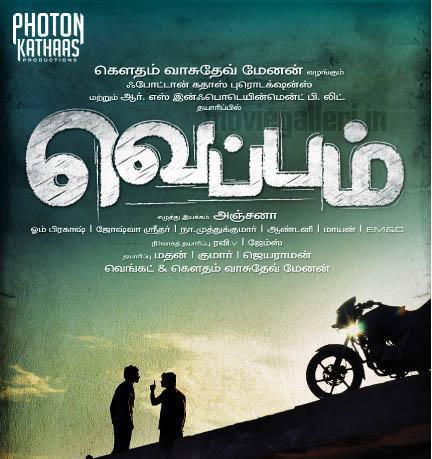 Veppam is a movie about three friends who grow up together and how their lives take interesting turns and finally end up peacefully ( 🙂 actually the movie ends with a lot of violence, so peacefully might not be the right word here).
Gautam Menon has co-produced this movie and that shows he is slowly entering into producing line, after a good exposure to this business as a director.
Nani (Karthik) and Karthik Kumar (Vishnu) are friends who grow up together. Nithya Menon plays the role of Revathy, who is also friends from childhood with Karthik and is in love with him. The movie is all about how the friends react to unexpected situations and how the movie ends with a lot of suspense and keeps us guessing till the last scene.
The chemistry between the friends in this movie, as well as the hero and the heroine is amazing. There is something in them that is really nice.
The one song that caught my attention was the Mazhai Varum song. It starts with a beat that reminds you of 'Oh Sathee Re' from olden days hits in Hindi.  'Mazhai Varum Mazhai thuli' is sung by Suzanne D'Mello and I have become just addicted to this song.
Though this movie has a lot of violence, just like many other movies that are released in the recent past in Tamil, this  movie has a good ending, which made me feel good as I walked out of the movie. I recommend watching this movie if you get a chance.