Just came back after Watching Velayudham at Big Cinemas here. Oh My God! The most horrible movie I have seen in a long time. I also have a few serious questions for Vijay (at the end of this blog post).
Velayudham is the masala story of a milkman trying to eradicate corruption, first unknowingly, then knowingly. This is a direct copy of Assassin's Creed without any exceptions. The start of the movie gives a good idea of how the movie will end, but never expected the end to be the worst one I have seen in many years.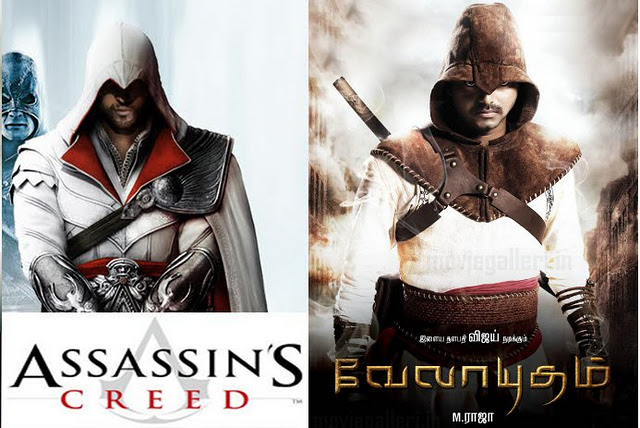 Genelia looks like a direct import from the north, with zero tamil accent – but at least her dialogues are original and she speaks exactly the way she knows it. Hansika Motwani is another heroine in this movie, who looks much bigger in size when compared to Genelia.
Vijay is introduced with just what you expect from a funny Vijay movie, without any serious story build up. The scene in the train when Vijay makes everyone eat the food cooked by his sister is the best. Santhanam comes as 'Speed' and is consistently excellent in the timely delivery of his dialogues. Until this point the movie is exactly what we expect from a good time pass movie.
If you are seriously thinking of watching this movie, see if you can enter into a deal with the guy at the ticket counter to sell you the ticket for half price in return for watching only till the interval – that would be the best deal you could get for this movie.
After the interval, as each scene goes, the quality of the movie goes down and down, and finally achieves the most horrible level towards the end of the movie.
WARNING: Some of the content below this might be too dramatic for many people to take. Please read at your own risk 🙂
I am guessing it has become very normal for Tamil movie fans to accept the hero killing 100 people in each movie. I remember the same starting from Nanbargal, Subramaniapuram, Endhiran and even in 7am Arivu. Vijay just goes one step further and kills about 200 people in this movie and the way he kills them is even more worse.
By the way, I am not talking about the throwing of people against electric posts, from the train, from the bridge, etc, (all these are also in this movie) as I think that has become normal in fights. I am talking about taking these fights to the next level of cruelty.
In one scene, Vijay cuts one guy into two half not horizontally, but vertically. If you felt bad thinking why he did not cut horizontally, he does that in the last scene, where Vijay reserves the straight cut of the hand and then the horizontal cut of the head for the head of the bad guys (that guy ends up as the head without a head!). Oh, also, in between, Vijay also pokes a few bad guys with his sword, just that his sword is so sharp that it enters from front and comes out from the back – I guess it is ok! If that was normal, here is something new, he stabs one guy from the throat and the end of the knife comes out of the back of the top portion of the head! What is wrong with you people????? Are you barbarians??
Vijay, you are seen as a leader of the masses of the future. You go to Anna Hazare's Anti-Corruption movement to support his cause. You give all signals in the movies and in your actions in Indian political scene, that you are interested in becoming our leader in the future. Is this what you want the kids of the future to remember about you?
Just one last dialogue from you in this movie to people that every one has a Velayudham inside you for 30 seconds do not erase the memories of all the killings shown in this movie with your multiple swords – It never justifies any of your actions. You are justifying your actions, I guess by saying the Government and law is helpless. That is against what you say in real world, then why act something else and say something else in real world? Vijay – dont confuse people by educating them to take the law in their own hand in their own hands in your movies, and then talk about Gandhiji style of protests in real life. Standing up for your rights is one thing, showing that killing bad people is ok is not acceptable – then why do we need all these laws? Did not expect this from you, Vijay.
Please remember one thing – there are millions of fans who adore you. You act nicely saying 'director said so' and go home after the movie. That is not the case with many of your die-hard fans who watch your movies. They try to imitate you. Then you act clueless when some young kids take knives and swords in their hands and get into gang fights when they are in their teens – guess what, it is partly because they learn from you – because they admire you and think it is cool to do what you do in real life! Is this what you want?
Be the change – Vijay – both in reel and real life. Be the change.