Just came back from wasting three hours of my life watching this movie called 7am Arivu.
7am Arivu movie starts with Chinese martial arts – Shaolin Temple and explanation about how Bodhi Dharman, the third prince of Pallava rule travels to China, reaches Nanyang village and teaches medicine as well as martial arts to the natives there.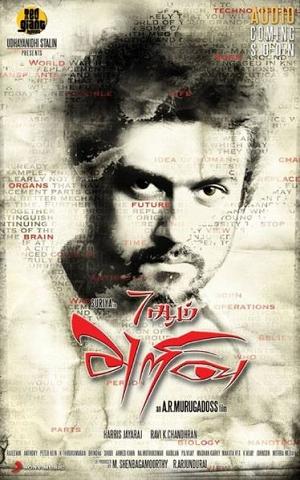 The first fight scene in China itself is full of unbelievable stunts (also called as 'reel' in tamil). Normally my mind is tuned to accepting such stunts performed in english movies or Rajini movies, but this happens to be Surya and so could not accept it. I guess the director wants to see us thinking it is Bodhi Dharman defeating 100 people. So the benefit of doubt in this one goes to the director.
Bodhi Dharman is known as Damo in China and with the fifteen minute introduction, the China scenes are done. My recommendation is the director should have ended the movie here saying this is the documentary about Bodhi Dharman..but the director had other ideas in mind.
The story then comes to present day and takes the form of Operation Red, an operation executed by a Chinese guy called Dong Li. He is sent to India for this.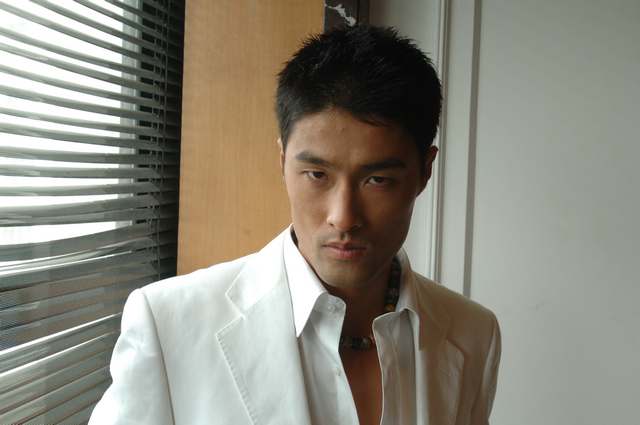 Dong Li is very tall, smart and handsome, but he suffers from a disease which I realized as the movie progresses. (Will discuss about it later in this blog, but want to retain some suspense.)
btw, Operation Red – the director could have called it Operation Halwa, would have been apt for Deepavali.
Surya has matured into a fine actor. His looks, body language and mannerisms show the confidence that has developed in him and it only brings out his good acting skills. Some of Surya's jokes are excellent – especially the one when Surya and Shruti are on top of an elephant, when Shruti says are we sitting on a patient and Surya says yeah in this case we cannot carry the patient.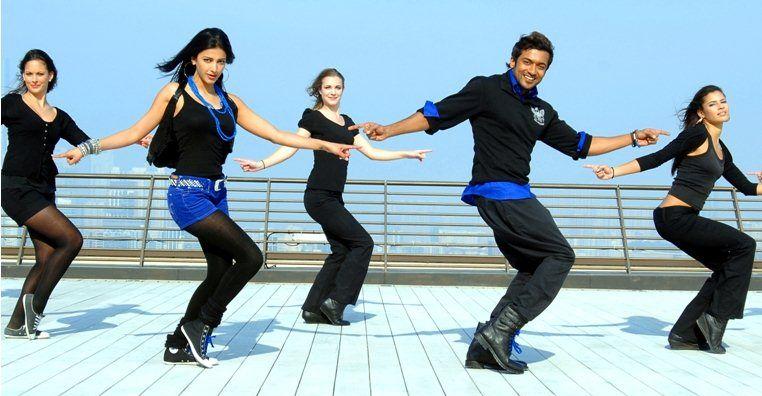 Shruti looks slim, elegant and presentable. I wish I could have added the adjective 'beautiful', but something is definitely lacking. Shruti looks amazing in many scenes and reminded me of Tabu in many scenes and Sonam Kapoor in a few.
I am not sure if the director told her to talk as much as she wants, as it is her first movie, she just keeps on talking about genetics and DNA forever. Also, she talks great about tamil, but her tamil is so bad to hear that I felt she is better off talking in english itself.
By this stage, the story is very clear – the usual blah, blah, blah and blah.(I will let your creativity run for now).
Munnandhi Chaaral song is quite melodious, while the train soft solo song by SPB is just average. Harris Jeyaraj has shown his class in almost all the songs. They are just amazing.
The second half starts quite interesting with Dong Lee chasing Surya and Shruti. Beyond a certain level, the only word that I was constantly reminded of is 'PEELA' – this is the tamil word for excessive scenes that look untrue – but since Shruti recommended that we use tamil words, it is full of peela.
Around this stage, the director has no clue how to end the movie. So he exposes the disease that Dong Lee suffers from. It is called hypnotic diarrhea. Dong Lee just hyptonises every single person and makes them fight against Surya and Shruti. It was so effective that one person in the theatre got hypnotised and ran towards the screen chasing them. 🙂
The actual story should have been that Dong Lee suffers from this disease and he comes to India to get it cured, but the director had other plans in mind.
Finally, at the end of the movie, Surya delivers the big halwa dialogue to every one asking us to go home and relax.
Went to the theatre after seeing all the hype about 7am Arivu. It was very interesting to note that there is not even a single banner or poster for 7am Arivu, while the theatre is full of Ra.One posters. I was not sure what to interpret from this, but it was interesting.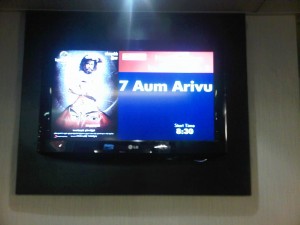 What a waste of time! I am guessing Velayudham will be a big hit..thanks to 7am Arivu.