Got a chance to see Thuppakki, the latest action thriller movie starring Vijay and Kajal Agarwal. Excellent movie – it is a long time since I have seen such a good action packed tamil movie. Reminded me of the Bourne movie series in English.
Vijay is the hero of this movie and has dominated this action packed thriller. Vijay has improved his acting skills by many folds and it is quite obvious that the race for the top in Tamil film industry now is between Surya and Vijay – it is not me, but their market rate (upwards of 15 crores per movie) that decides it. With zero obscene comments in the movie, Vijay has also made it easy for the entire family to enjoy this movie. Especially the jokes he shares with Jayaram and Sathyan. My favourite is the line where Vijay has a terrorist locked up in one cupboard and his girl friend hiding in another – at that point, Sathyan says 'Do you ever use your cupboards for what it is supposed to be used for ?' 🙂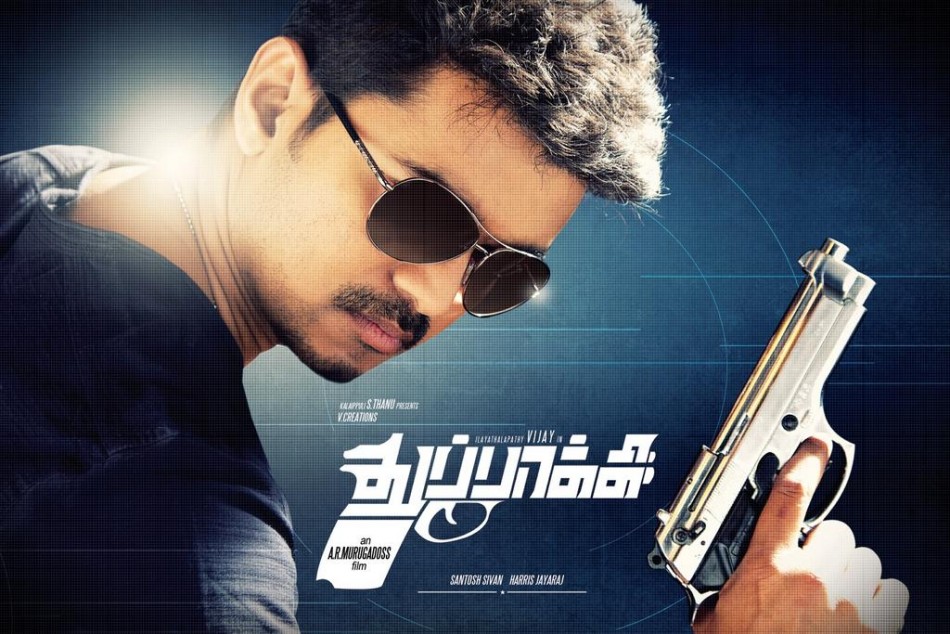 Director A.R.Murugadoss, Vijay and the rest of the crew have shown that with the right amount of investment from the producers and the right team on the movie, Indian film industry can create action thrillers that can match any good action movie in English.
Kajal Agarwal is quickly becoming one of my favourite heroines now. She seems to be in all the movies I am watching lately (just watched boring Maattran a few days back). She looks like Aishwarya Rai in a few scenes, but does not have any hype around her acting. All of us know that heroines do not have a big role to play in hero oriented movies in Indian films, but Kajal Agarwal seems to have given exactly what the audience wanted – the right dose of glamour.
Vidyut Jamwal has played the role of the leader of the terrorist gang. He is an extremely handsome dude and has done his part to perfection. I am guessing we will soon see him in positive roles in future as he has good talent and expresses it well.
Harris Jeyaraj has done a good job with the music in this movie and the songs are quite good. Google song is my favourite and I am sure many will like it.
Director A.R. Murugadoss has again proven that he is among the top five directors. After his Ghajini super hit, there has been a lot of expectations from him, and he has lived up to the expectations in this movie.