I watched Tees Maar Khan this weekend on Netflix. When I knew that this movie was released just a few months back and is already on Netflix, I knew it must be a flop and it turned out to be exactly that.
Tees Maar Khan has Akshay Kumar and Katrina Kaif in the lead role, while Akshay Khanna and a few others try to add fun to the movie, but in vain.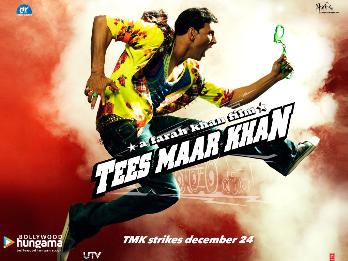 The movie starts with Akshay Kumar as a baby in his mom's stomach, while his mother watches lots of robbery related movies – the baby also gets hooked on to robbery, exactly as the dad puts it: He will become a thief if you watch such movies. I wonder which dad says that to his wife when she is pregnant!
After the introduction scene, every scene is better than the other in increasing the level of absurdity. It is a sincere attempt at comedy but has miserably failed and leaves the audience waiting for the movie to get over.
The introduction song for Katrina is a big hit of 2010. I have heard of this 'My Name is Sheela' song earlier also, but for the first time, got to watch it and now I know why it is so famous: Katrina has done some very good dance moves in a very sexy and appealing way!
Also, I think Katrina Kaif should be given a guinness world record for maximum number of hip shakes in a movie – as I have not seen any one else shake their hip so much in a movie. Not sure why, but that is what happened.
Salman Khan shows up in one song in the movie and I am not sure what is up with Bollywood, where if Katrina is acting, I am seeing Salman show up in at least one scene and people appear to be scared of him. I saw the same in Ranbir – Kartina's Ajab Prem Ki Gazab Kahani also.
Farah Khan has continued her versatality in Bollywood after starting as the choreographer, moving into directing movies (Starting with Main Hoon Na in 2004, Om Shanti Om in 2007 and now Tees Maar Khan in 2010). Farah Khan is one of the producers of Tees Maar Khan, and I heard she is also producing another movie called Joker, scheduled to be released this year.
The ending of the movie has Farah Khan's unique style that she introduced in Om Shanti Om, where all the members of the unit take the ramp at the end of the movie. In Tees Maar Khan also she follows the same style, but it is so boring to watch it.
Overall, my recommendation is this: If you do not intend to write a blog about the movie, please do not waste your time watching the full movie. Just watch Katrina Kaif in the 'My Name is Sheela' song and be happy about the wonderful choreography done by Farah Khan in that song. I believe Farah Khan's choreography is any day a thousand times better than her direction.

Get Your Own Hindi Songs Player at Music Plugin