I found Udaan movie available on Netflix – this movie was also released only July and it is good to see it already available for watching online via Netflix. (I guess they have a tie up with UTV to upload all the movies online as soon as they are out of the theater – no wonder all the flop movies are available online as soon as they bomb in the box office 🙂 )
Udaan is the story about a teenaged boy who gets expelled from boarding school after repeatedly getting caught doing one naughty thing or the other. He comes back home and his strict dad makes sure he cannot pursue his dream to become a writer – by forcing him to come to his engineering company in the day time and attend engineering college during evenings.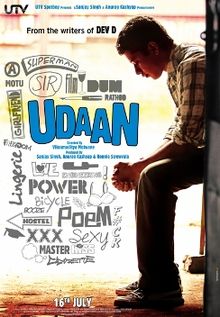 Rajat Bharmecha plays the role of Rohan, who is the central character of this movie. His father is Bhairav Singh, whose character is played by Ronit Roy, who is better known for his security business which provided top security cover to celebrities such as Shahrukh Khan, Aamir Khan, Lalit Modi, etc.
Rohan and his friends have fun during boarding school days and they do what typical teenage kids do in school. When Rohan's principal expels Rohan from the school, he has to come back to Jamshedpur, where his father has his engineering company. His dad tries to make him give up all his passion for writing and forces him to do what he wants.
On his return from boarding school, he also finds out that he has a younger brother (step-brother) who is six years old. The story then evolves on how Rohan picks up the courage to walk out of his father's life and takes his little brother along with him in that process.
I enjoyed watching this movie as it was quite realistic. Do not miss it if you like to see real life like incidents well portrayed within two hours.

Get Your Own Hindi Songs Player at Music Plugin