Rocket Singh – Salesman of the year is a movie about a young salesman who gets frustrated by the unethical activities that go on in sales and marketing departments in a company. He ends up creating a competing business which actually runs better than the company he works for.
Ranbir Kapoor plays the role of Rocket Singh, who names his company as Rocket Sales Corporation after his colleagues throw paper rocket at him to make fun of him.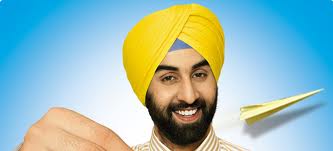 Ranbir works hard and learns the core of the computer sales business, carefully avoiding the unethical principles followed by his employer, thus becoming a reputed brand because of his dedication and hard work. Along the way, he also builds a core team of member each of whom specialize in one aspect such as marketing, support, accounts, etc while he takes care of the core sales and negotiations.
The movie takes a very interesting turn after the interval and then finally ends up with a happy ending.
I am not sure if any song in the movie was a hit as I don't remember even one.
Overall it is a good time pass movie to be watched at home, but too slow to watch at a theatre.

Get Your Own Hindi Songs Player at Music Plugin