I got a chance to watch Surya's latest movie, Aadhavan at Satyam theatre in Chennai. As I have not been to Satyam theatre in almost 10 years, and I have heard quite a lot about the changes made to these theatres in the past five years, I was looking forward to it.
Satyam theatre now has six screens and has made good changes to the place – except one – which I will disclose before the end of this post.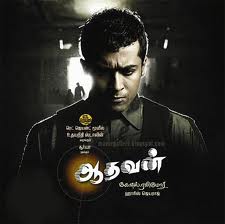 Surya plays the role of Aadhavan in this movie, as a sharp shooter who is on the rise in the mafia industry. He is given an assignment to shoot a judge, where he misses the target and then takes upon himself to personally finish the job. This is when Nayanthara comes into the picture as one of the members of the huge family that the judge has. This family goes to a vacation house and Surya gets in as a relative of Vadivelu, who is a cook there.
The story builds up, as expected – if you have been regularly watching tamil movies, we have seen this story in many many movies before – a guy entering a family with an intention, falling in love with a pretty girl in the family, ends up protecting the family. This plot has a slight twist towards the end which is a smart one.
This movie gives a overdose of Surya from beginning to end. Surya starts well, but as the movie progresses, it is too much for the audience to take, and we could hear sarcastic comments from every corner of the theatre, people showing their frustration. If Surya's acting was not boring enough, the director has introduced a flash back, with a miserably failed attempt by super imposing Surya's face on his childhood character. It looks way too horrible to watch – imagine a child with a grown up man's face (reminds me of Benjamin Button – we just have to wait for Amitabh Bachchan's Paa, where he does that).
The worst part of all is the way Satyam theatre parking has been organised. Usually if the movie is bad, we can just get up and leave. In this case, the cars are parked one behind another, making sure there is no way we can get out of the theatre – leaving us with options of sitting inside the theatre and hoping at least the next few scenes would be good or waiting in the parking lot. For Aadhavan, we chose the former option of hoping things will become better, but our bad luck, it was consistently downhill after interval.
Nayanthara happens to be in front of me in a theatre screen in all the wrong movies – the last time I saw her on screen was for Ajit's Aegan, which can be compared as one more horrible movie along the same lines of Aadhavan – with a similar plot. Nayanthara performs standard roles as a bubbly young girl, who shows up in a few songs and then the movie plot turns to focus around the hero.
One good thing about this movie is its songs. Every single song was catchy. I just could not stop humming each one of them as and when I heard them. Hats off to Harris Jeyaraj for yet another masterpiece. My favourite is Vaarayo Vaarayo Monalisa.
Overall Aadhavan is a movie that I definitely regret wasting my time on. If you dont like some one, gift them with a ticket to watch Aadhavan, worth it.

Get Your Own TamilSongs Player at Music Plugin