Happened to be at the Changi International Airport in Singapore for a few hours during my recent visit to Singapore/Malaysia and had a wonderful experience there.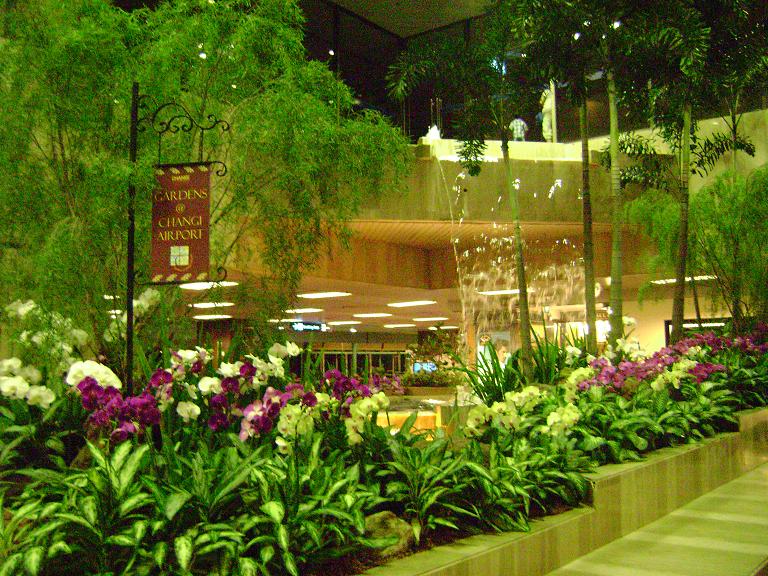 As this was my first visit to the Changi airport after 12 years, and since a lot of friends suggested we spend some time at the airport, we wanted to see what is so good about the airport.
Changi Airport claims to become the model airport for the world. Based on my experience there, I can say for sure they do not have to claim it..they have earned it purely by providing a complete package in both their facilities and their service levels. Here are some reasons why I felt they have earned it.
Overall Atmosphere
The person who had managed this entire concept has focused on the overall experience and taken a difference approach. The focus is on giving the passengers a pleasant experience and this includes all the aspects of the travel. When you consider a service industry, there are many factors that play a big role in deciding the level of service. Some of them are
Customer Satisfaction: I had interacted with over ten officials in the airport (for various reasons) and the consistency in their high quality of service was amazing. Each official provided the correct information and even if they did not know the answer, instead of making us go around (which is usually the case), guided with information on who could help. Each one of them made sure that at the end of our conversation, we left happy.
Response Time: I had to claim some tax refunds (GST) at the airport and the response time there was amazing. This was just one experience and they key to their success is in ensuring the same consistency in all departments where people have to interact with the officials.
Customer Feedback: Customer Feedback is one of the most important factors in any service industry. I was amazed to see them request for the customer feedback even in their toilets (that too with the name of the attender who is on the current shift!)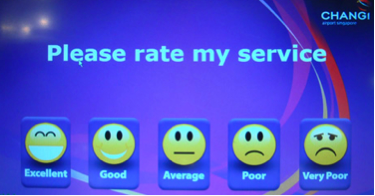 Entertainment
The airport is modeled as an entertainment centre for kids of all ages.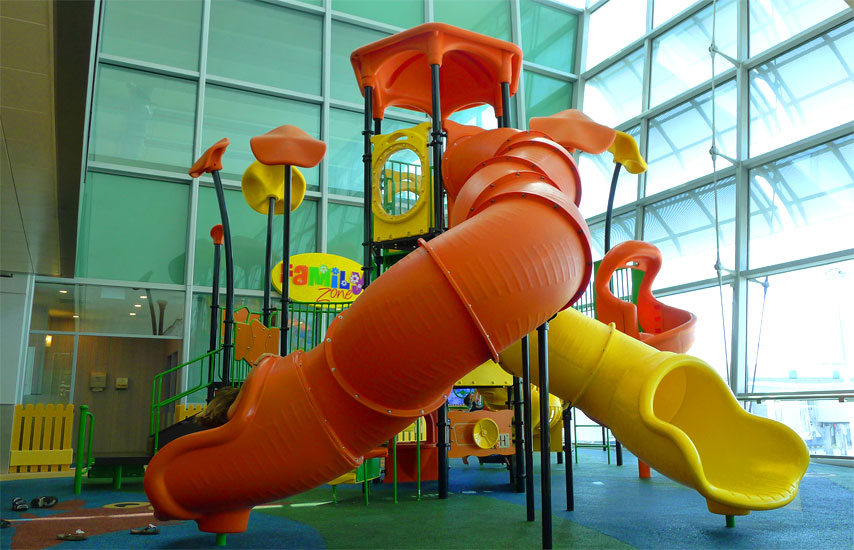 Kids Play Area: For the kids, there is a separate play area with slides, etc. Besides the garden, there is also a coloring area, where the kids can try their hand out at coloring using crayons. As expected, there are some of the businesses focused around kids, that have setup their shops right around this area – thus making it a win-win situation for all.
Video Games: For those interested in video games, there is a separate video games section with PSP, Xbox, etc available with different varieties of video games.
Movie Theatre: There is a movie theatre where you can relax and watch a movie any time.
Online Technology
Changi Airport has made the best use of online technology so far.
WiFi Enabled: The entire airport is wifi enabled and it is free! So it does not matter where you roam around in the airport, you are always well connected to information that you need using online tools.
Wired Connections: They have provided wired connections with RJ-45 jack in the seating area in many locations in the airport.
Internet Kiosks: In case you do not have a device of your own while at the airport, there are many internet kiosks where you can stop by and go online at any time.
The most interesting aspect of this airport is that, the above are just a few of the various facilities they have made available at the Changi Airport – and they are all free. What more can you ask for?
Once I came back from my trip, I spent some time searching online about how they are able to do what they do. The interesting fact I found is that they have set a goal, with specific agenda and explained it very clearly on their website also:

http://www.changiairportgroup.com/cag/html/our-services/quality-service-management/
This is a fine example that can be studied by any one who wants to provide high quality service to their customers. It goes without saying that if you can get a chance to spend some time at Changi, do not miss it 🙂