We had a wonderful trip to Switzerland and had quite a few surprises, some pleasant and some not so pleasant.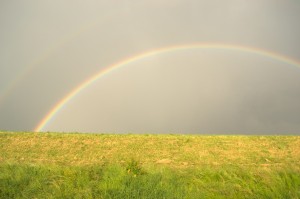 Besides the beautiful double rainbow we got to see during our drive from Geneva to Montreux, here is a quick look at the rest of them:
Stroller Friendly: Every place that we went to in Switzerland, was stroller friendly. I have not seen any other country with such stroller friendly rules implemented anywhere.
Tap water is drinkable : This is good to know as they do not have bottled water – they only have tap water or sparkling water, besides the soda, juices, etc.
Tap water is charged : I was surprised to see some of the restaurants charge money for 1/2 litre of tap water. Wow..I am guessing it is a matter of time before which they start charging for the air we breathe!
6.30pm is the time to remember : Almost all shops close by 6.30pm every single day. If you are on the streets trying to shop after 6.30pm, you choices are very limited.
Almost everything is expensive : All the items except bread, beer and cheese are very expensive. If you felt US or India was expensive, try shopping in Switzerland.
No Room Service : If you are used to the room service concept in India and other Asian countries, get ready to manage in your hotels with zero room service, starting from bringing your luggage to your rooms, to anything that you need help with.
Speeding Tickets : Speeding tickets are sent automatically in Switzerland to your credit card account on file with the rental car company. So please drive carefully.
No Tolls : We were warned that there would be tolls in many places. We drove to over 10 cities, but did not notice even one toll booth anywhere. Not sure how that happened!
Indian Driving License: Indian Driving License is sufficient to rent a car in Switzerland. You do not need an International Drivers License to rent a car there.
While this post only has information about the surprises we had in Switzerland, if you are interested in knowing more about how to plan your self guided tour in Switzerland, this post will be useful to you.