Based on our experience on our first visit to Switzerland, this post is aimed at helping people planning to go on a self guided tour in Switzerland.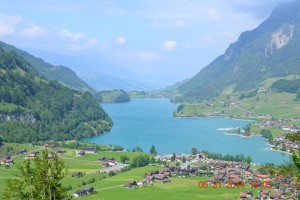 Self Guided Tours in Switzerland can make your life wonderful because it gives you the flexibility to go where you want and when you want, as long as you are ready to do a little bit of planning. Can you believe we took this picture during the drive from Lucerne to Interlaken, which would have been missed for sure if we did not drive!
Planning
For any self guided tour of Switzerland to work right, you have to do some amount of planning ahead of time. Some of the things you have to do ahead of time are:
Applying for a visa
Flight Booking
Hotel Booking
Car Booking
Packing clothes based on weather during your time of visit
Travel Adapter (Get the one shown in this blog ahead of time)
Applying for a visa to Switzerland
Getting a visa to Switzerland is very easy as they are a part of the Shengen block. In fact, no visa is required if you are a US citizen (Green card holders will require a visa).
If you are applying from India, all details are provided here .. https://www.vfsglobal.ch/switzerland/india/index.html . A very clear checklist is provided there with all details.
We prepared all the documents and gave it to a travel agent who took care of handling the submission, receiving, etc, but I guess that can easily be avoided if you are ready to spend some time on it.
While applying for visa, please plan on whether you intend to visit multiple countries (if you wish you can drive around to multiple countries), in which case you will have to apply for a 'Multiple Entry' visa.
Travelling within Switzerland
Switzerland is one of the most advanced nations in the world. If you want to know more about Switzerland as a country, please visit Wikipedia or click here for my views with comparisons to India.
Having lived in the US and in India, I can clearly see that travelling in Switzerland will be very easy if you have ever experienced the public lifestyle in US or Singapore, with respect to directions, following of rules, timings, etc. Also, every town has tourist information center as well as printed maps.
Zurich Airport
We landed at Zurich. Within the Zurich Airport, you will have a huge place (like the Grand Central Railway Station in New York) where you have three floors full of shops – restaurants, rest rooms, mobile shops, money exchange, train/bus ticket booking, etc – you will not miss it.
The order in which we got the items at the airport are:
Food from the food court – we loved the pizza there
Money exchange from Western Union
Prepaid Phone from Orange
Car from Budget
All of these are within the airport and within the single building. Within one hour of landing, you have the freedom to start your self guided tour of Switzerland!
Local Currency
Swiss Francs is the local currency and it is way costlier than the US Dollar (similar to the British Pound). Most places accept cards, but in very few places (eg. local ice cream shop, parking meters, etc) they require cash. We took about 300 Swiss Francs and that was sufficient for the entire trip – we used our Amex everywhere else.
Travel Adapter
This is one thing we missed getting ahead of time. Switzerland has its own three pin plug as shown in this picture. Even if you forget to buy it ahead of time, look for the nearest post office, walk in there and you will find travel adapters for sale. Will cost around 15 Swiss Francs. If you are in Chennai, feel free to take it from me 🙂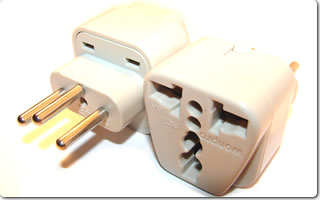 Phone
Phone is not a must, but a wonderful tool to have for a tech friendly person like me.
There are three networks that are most popular: Swisscom, Orange and something else. I took the Orange one – For 10 Swiss Francs they give you 25 Francs of talk time free which also includes data plan so that you can use the same smartphone as a phone as well as for browsing.
A smart trick here is to get two phones, one in your name and one in your spouses name, so that you can get 50 Francs worth of talk time for free for 20 Francs. Use the first sim and once it is done, keep it away and use the second one.
This will make sure you have both phone as well as data plan in this prepaid sim card and you can use it every where in Switzerland.
The setup is very easy – you can do it yourself or the guy at Orange itself will do it for you if you feel bored. Remember to store the PIN of each sim safely as it is required everytime you switch off the phone completely and restart it.
Each prepaid sim comes with a local Switzerland number and you can call US or India or any other country of your choice directly from your phone whenever you want – it is so convenient. As it also includes data plan in it, it is a single plan for everything.
I cannot thank my Vonage enough for the way they have made my life easy – I setup call forwarding on Vonage to ring on my Swiss number so anyone trying to reach me will just have to call my US number that they are already aware of and it rings on my mobile.
We booked our hotels in such a way that all of them had free wifi access, this way, we only had to switch on the mobile data on the phone once we stepped out of the hotel. (Remember to switch off wifi once you step out of the hotel, as wifi sucks up the battery life on all modern day smartphones.)
Advantages of Travelling by Car
If you intend to go by car, there are many advantages.
As we were going from one city to another, whenever we saw a beautiful spot, we could easily find a place to pull over and take some pictures. Some of the views we saw on our way was breathtaking and we just could not have done it if we had gone by train or tour bus.
You can start whenever you want. We usually spent time exploring new restaurants in each town for dinner, and hence always had a late start during the day. With two kids with us, we felt this was a very big advantage as we do not like to rush things around. I have heard of stories about guided tours where it reminds me of life in school with specific timings for everything.
You can even go on unplanned visits to other cities, as Switzerland is a very small country when compared to India or the US. It is slightly bigger than the size of New Jersey – you can easily drive from top most part of Switzerland (eg. Saint Gallen) to the bottom most part of the country (eg. Geneva) in under four hours. So in general, to drive from one town to another, it should not take more than an hour or two.
We always dressed up light in the car and kept a thin jacket handy in the car. The temperature was around 60 to 70 degrees (Farenheit) all the time (this was during May-June) and we did not have to worry about dressing up in layers – without a car, imagine the amount of luggage you will have to carry on yourself in the form of clothing – just to be prepared.
Limitations of Travelling by Car
You should also be aware of the limitations of travelling by car: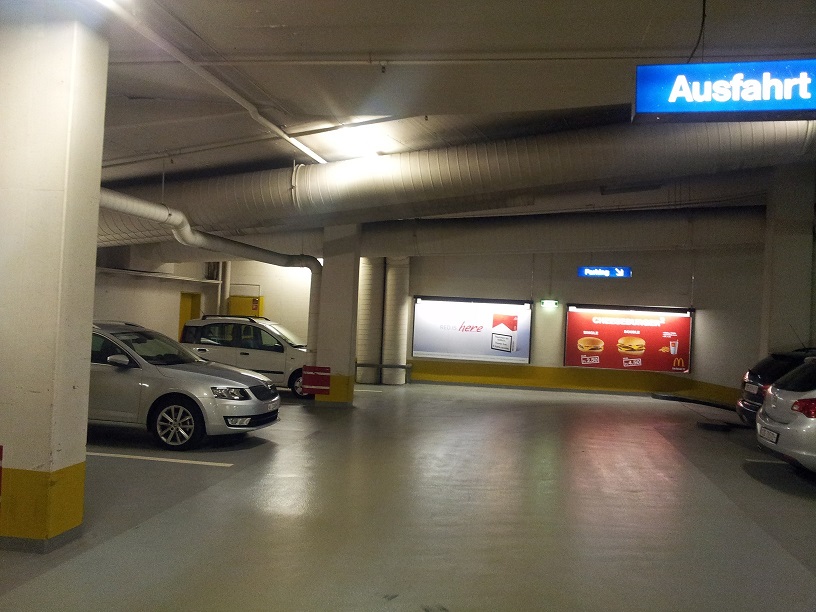 Parking is not free at most hotels or shopping centers. So be ready for a parking fees of about 10 to 20 Francs per day.
Car Insurance: This is not mandatory, but we always take 100% coverage so that we can be sure that whatever the situation is, we are covered 100% from all hassles. This also costs money.
Booking a Car
Book a car online (using one of the usual sites like Expedia) and remember to add GPS to it (you can do it when you pick up the car). GPS is a must – at least for someone like me, who does not like holding a printed map book in my hand. Please get a car with a GPS and you will thank me for it. We picked up the car from the airport and visited about five cities and five good tourist places and never had to ask any one for directions while driving.
To book a car in Switzerland, you just need a driving license from your country. (I showed my Indian Drivers License and they accepted it. If they can accept Indian Drivers License in Switzerland, they will accept anything 🙂 ).
Our total cost for SUV car along with insurance came to around 800USD for one week.
People of Switzerland
This is the biggest advantage this country has. The culture of Switzerland is such that the people are extremely friendly and hence do not hesitate to stop and answer even if you ask a question to a stranger. We found the people of Berne, the capital of Switzerland, to be the most friendliest of all the places we visited. Try doing that in Washington DC or New Delhi 🙂
Stroller Access
Switzerland is 100% wheel chair friendly. There was not a single place (including the top of the mountain in Jungfrau, the highest peak in Europe) where I could not take my daughter in the stroller. I wish India was like this!
Tours Within Switzerland
The country is so well developed that you can book your tour reservations for each place at your hotel itself, after you arrive there. We stayed in four different hotels and at each hotel, booked for the tours there. The network that the hotels have with the public services (eg. local buses and trains) as well as the tour operators is amazing and it promotes tourism in the right way.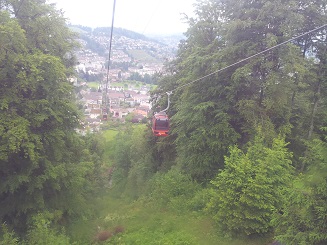 Will follow up with separate posts on self guided tours to each city of tourist interest such as Zurich, Lucerne, Mt.Pilatus, Jungfrau, Berne, Interlaken, Montreux, Gruyeres, Broc, Geneva and Rhine Falls.
Besides the wonderful memories this beautiful country gives us, there are lots of good lessons to learn from Switzerland 🙂