Virat Kohli appears to have all the stars aligned in the right places for him. He is just 23 years old, but already has eight international hundreds in the past year and a half.
After his magical century at Hobart (Tasmania, Australia) against Sri Lanka, and the announcement the very next day that he will be the vice-captain for India in the Asia cup, Virat Kohli appears to be in the news every where.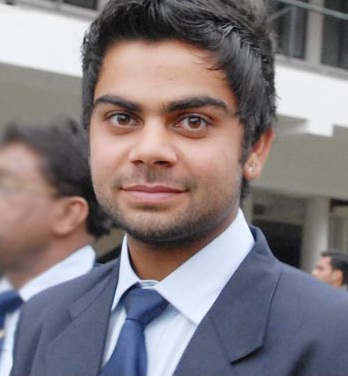 Virat Kohli made a wonderful start to his new role as vice-captain, with a wonderful century yesterday at Mirpur (Bangladesh).
Virat Kohli has always been aggressive both during fielding as well as during batting. Usually, his reaction on reaching a century is with loud screams and pumping of fists. Yesterday, I noticed he celebrated his century with a half pumping of fists and no screaming. It can be taken in two ways: One is that by now, scoring centuries have become such a routine for him that he feels too bored to scream (if this the case it is a good one). Or the second could be that, he feels he is the vice-captain now and should be reacting very calmly as a mature person (Dhoni-like reaction).
No matter what the reason is, as long as he continues to perform, it will be a good news for India, as India appears to have found the right middle order replacement, long over due. Considering the fact that he is just 23 years of age, it appears to be a good move in the right direction, as long as Virat can consistently perform like how he is performing now. If that does not happen, he can expect to see himself in the exact situation that Gambhir is in right now.