Watched We Are Family movie on NetFlix. This movie is a Karan Johar production and hence I was not surprised when I found out that Kajol was acting in the movie.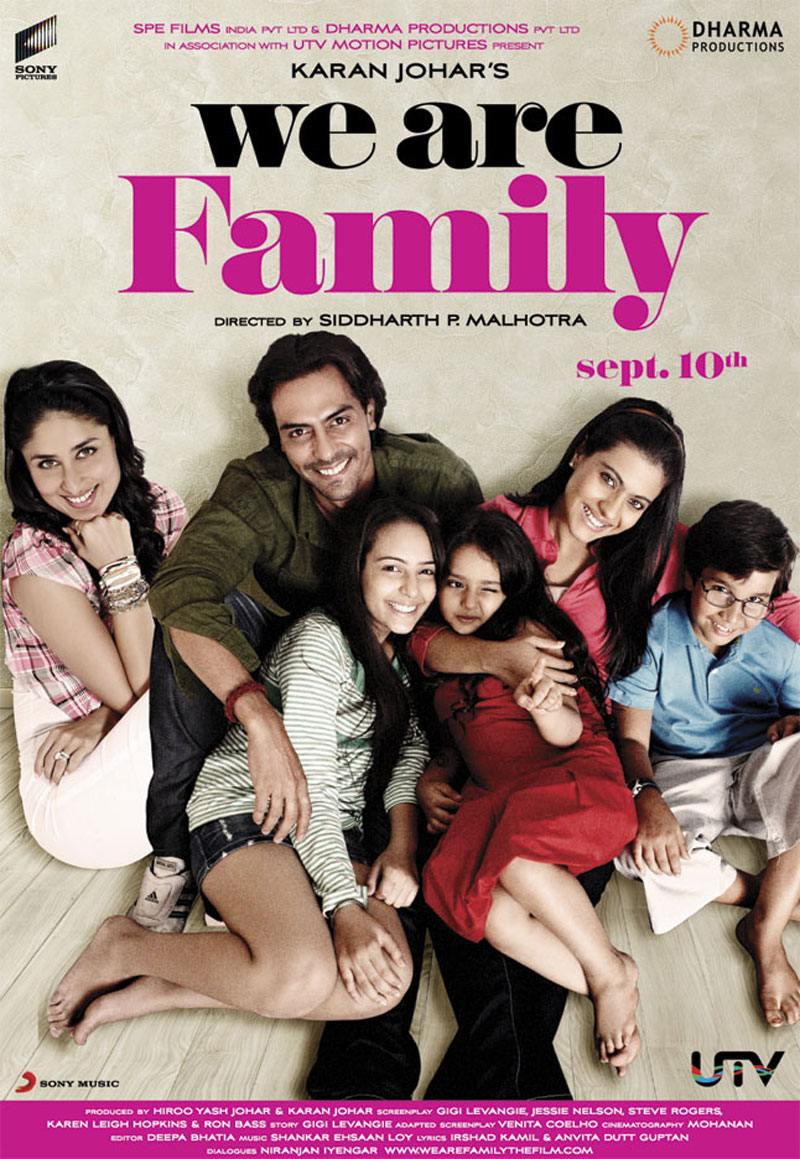 It has Arjun Rampal playing the lead role and this is the first time I am seeing him in a movie as a hero, all by himself, without any more heroes. The movie does have two heroines, Kareena Kapoor and Kajol – actually two more little ones who play the role of the two daughters of Kajol.
We are Family movie is a remake of 'Step Mom' and is completely based out of London (I think).
The movie starts with the setup showing Kajol and Arjun Rampal having three kids, but have divorced over three years ago.
Arjun Rampal and Kareena Kapoor are shown as being in love with the hope to get married sometime soon.
It is at this point of time that Arjun Rampal decides to introduce Kareena Kapoor to his kids and the hungama starts there. Kajol is obviously jealous about this and tries to use her kids as an excuse to show her frustration about it. Overall the movie starts to catch steam and goes on well till around intermission time.
The second half of the movie is around how Kajol tries to battle her cancer and how Kareena Kapoor slowly becomes a part of the family and is accepted by everyone.
There is something in Arjun Rampal that is not right. Not sure what, but something is lacking in him from being called a 'widely accepted hero in Hindi Movies'. He does look tall, handsome and dresses up well and is moderate well built – not the macho style of Salman or Sanjay Dutt, but good enough to show off his muscles. May be it is his style of acting or maybe he is in the midst of two well established heroines, in any case, Arjun Rampal has done his best in the movie, but definitely was not very impressive.
Kareena Kapoor, though she is not one of my favourites, have done a good role in the movie. She comes as a fashion designer, who is in love with Arjun Rampal, who also knows his family circumstances well and tries to adapt to the situation well. I have not seen in Kareena in a similar role in the past and she has done it well.
Kajol seems to perfectly fit into the mom character and plays it well. Her character is portrayed as a frustrated young girl, who tries to do everything for her kids, but once she knows her ex-husband is in love with some one else and later that she has cervical cancer, tries her best to survive as long as she could. Kajol has done this role quite well.
Towards the end, there is too much of sentimental dialogues going on and we all understand Kajol is sad, the kids are confused, Arjun Rampal has a wife (ex-wife with whom he moves in) and a standby person in the form of Kareena Kapoor, who will take over the position as soon as Kajol dies, etc. – but they could have reduced the amount of sentimental dialogues in the movie as we all felt too bored towards the end and we enjoyed it when the movie ended.
The songs are ok but I do not remember even one – so I dont know if I like any of them, but will try listening to them more often.
The best part is that this movie was released only in September 2010 and it is already on Net Flix. As I had mentioned before, the minute a UTV movie bombs at the box office, is available on NetFlix 🙂
If any one talks about प्लानिंग

Get Your Own Hindi Songs Player at Music Plugin