Pakistan has announced that it is granting the Most Favoured Nation (MFN) status to India.
There have been a lot of cry from within Pakistan not to do so, based on India's stand on Kashmir.  The Information Minister of Pakistan has said it will be beneficial for both sides to do so. Historically, at different points of time India has also granted the MFN status to Pakistan.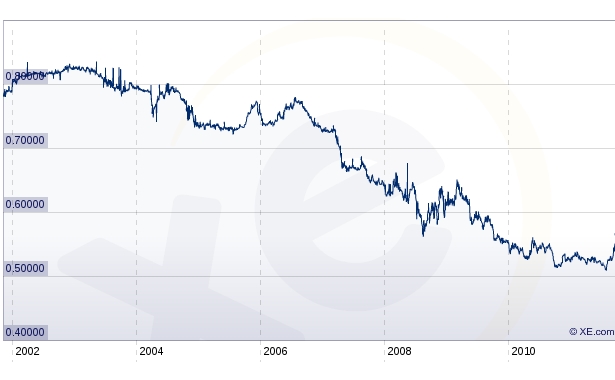 As soon as I read this news, I tried to do a comparison of the currency values of India (INR) and Pakistan (PKR). I was surprised to realize that in the past ten years the value of Pakistan Rupee (PKR) has gone down considerably against the Indian Rupee (INR). The chart below shows how for each PKR we used to get .80 INR and now it we get only .50INR.
Overall, it appears to be a very logical move by the Pakistan Government to take advantage of India's position right now. From a sentimental standpoint, it will take a very long time (a few decades more) for the people of the two countries to really start accepting each other, but for now, I guess MFN is a better deal than nothing from Pakistani side.