Nita Ambani is the wife of the famous Mukesh Ambani, who is one of the top 10 richest people in the world. Nita Ambani has always claimed that she is happy being Mukesh's wife but the recent events in the past two years show a trend.
Nita Ambani is quite active in social work for a very long time and is involved with various activities such as providing education for the under privileged, providing eyesight to under privileged people, fighting the HIV epidemic, etc.  Nita Ambani is also managing the Dhirubhai Ambani International School in the role of a chairperson. This school serves as the school to go to for all the rich and the famous in Mumbai.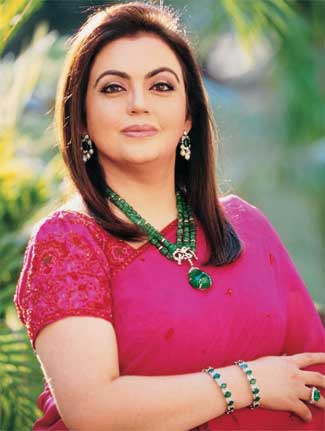 Once the Indian Premier League (IPL) cricket tournaments were started, Nita Ambani became the co-owner of Mumbai Indians team and has been quite active in the Mumbai Indians management. This year Mumbai Indians won the Champions League for the first time and many have attributed their success to the motivational skills of Nita Ambani.
After Mukesh Ambani acquired 15% stake in some of the hot properties of Oberoi group after paying an amount of 242 million USD recently, it has been announced yesterday that Nita Ambani will now be a non-executive director in the board of East India Hotels, the parent group for Oberoi hotels. This recent news came on her birth day 1st November. Sweet birthday gift 🙂
I was guessing Mukesh Ambani would groom Akash Ambani (after seeing Akash at the IPL4 auctions in Bangalore) to be the one to take care of Reliance Industries in the future, but with the recent trends mentioned above, it makes me think Nita Ambani might well start taking care of some of the businesses in the giant's large corporate world in the near future.