We went to the historic town of Philipsburg in New Jersey yesterday for a birthday party and were surprised to find out the party was not yesterday and instead was today!!! We were just 24 hours early for the party – we dont like going late to the party, you see 🙂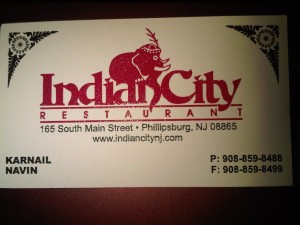 In any case, since we bothered my friend and his one year old daughter a day before her birthday, we decided to explore Philipsburg area, when my friend suggested that there was a new Indian restuarant called Indian City Restaurant in Philipsburg. So we went there for lunch to try it out.
The restaurant is located along a road which leads to a bridge connecting with Pennsylvania. This road reminded me of the Route 66 in Lightning McQueen's movie, where it appears to have lost its glamour but was a well sought out neighbourhood in the past. I enquired with my friend and to my surprise he said, there was a road which came up recently connecting to Pennsylvania, and ever since that road has come, this road is not used much. What a coincidence with that movie!!
The Indian City Restaurant is in a old building (must be at least 100 years old!) but the new owners of the restaurant (I heard there was a old restaurant called Surya which has now been taken over by the new owners) have done their best to decorate it – good try, but not good enough to cover the radiators and other things hanging out of the walls due to the nature of the building itself.
They had a lunch buffet with a good variety of vegetarian and non-vegetarian items in it. They also had salad along with paani poori as appetizers and I had the paani poori, which was not bad at all. I guess they could keep it more fresh if they do not keep their main door wide open, as it is quite cold around this time of the year.
For the main course, they had a variety of vegetarian items – channa masala, dal makhani, gobi manchurian (my favourite) and one more dish (I forgot what it is, but should be able to recollect once I look at all the photos I have taken from there).
They got us some hot naan, which was the best item of the day. The bread was really soft, and the nice tinge of butter to the naans, just made the naans melt in our mouth.
Some of the non-vegetarian items were tandoori chicken, chicken tikka masala and a goat gravy. They were also not bad at all.
They had two dishes for dessert – Carrot Halwa and rice pudding. I heard they were ok, nothing great about it.
My son has become a fan of 'Briyani' recently and so he ordered Chicken Briyani from the menu. We requested for it to be mild and I guess it was good as he seemed to enjoy it and finished his plate fully. His only complaint about it was that the chicken pieces were very big and he recommended to the owner of the restaurant to make them in smaller pieces in the future! I guess he will grow up to become a good food critic, as I am beginning to get quite a lot of inputs from him even now.
Overall, it was not a bad experience at all and given the fact that we went late and were the only ones in the restaurant. We were wondering how many tables of people would have come on a saturday and how they can manage to run a restaurant with less patrons. My son promptly went and enquired with the owner about how many tables were filled for lunch and got a response: 4!! (Thank God he did not get beaten up for asking such direct questions to the owner!).  I wonder how a restaurant can survive with just four tables served during lunch on a holiday. I really hope such establishments, who are ready to provide good service, should be helped to survive as it is this main street concept in the US that has made US into what it is today.
Overall, it was a good experience and I will surely recommend any one visiting Philipsburg area in NJ or Easton area in Pennsylvania to try India City Restaurant out.