I have been hooked on to listening to the Take It Easy with Balaji show on 92.7 BigFM Chennai FM Station from 6pm to 9pm. This is the time when I go to play badminton with my son, and Balaji makes us laugh every single time with his funny 'Cross Talk' encounters.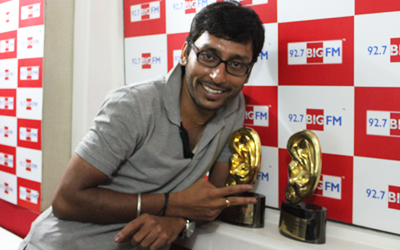 In today's programme, he calls an IAS aspirant and asks her a series of questions, with his funny broken English, ranging from Virendra Sehwag's century to latest current affairs . He also claims to be an IAS officer, who drew the border line with Bangladesh using a pencil 🙂 . It was very very funny. More than any thing else, it is his consistency with which he makes the audience smile, which has made him a super hit RJ.
Here is one such five minute audio where R.Ashwin (Indian Spinner) gave the Indian team physio's number to BigFM and how Balaji tells the physio that we will start a 24 by 7 gym, where we will also hire 8 people to go and wake up all the members every morning 🙂 .

I used to have the habit of listening to FM while driving, just for the songs. All these months I used to comfortably switch stations as soon as I heard a RJ speak or an ad come up. After this addiction to Balaji's show, I listen to every single ad 🙁 on 92.7, just in anticipation so as to not miss any word of his wonderful delivery of jokes. All those advertisers from Ramco, etc have to thank him for making people like me listen to their ads purely because of him.
Today, I was extremely impressed when he conducted the 'Junior RJ' talent search contest and extended his trademark 'tododontontontime'.