While all of us are told to follow the rules as it is the right thing to do, many of us would have seen people who are supposed to make sure the rules are followed, themselves break the rules.
I got a chance to take a snap of a police car that was going in front of me, which blatantly violated the red signal and just took a left turn. The photo might not be very clear, but what I saw is something each one of us have seen at least once before – where a person in charge of the law, bends the rules to their convenience.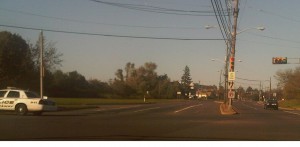 I know some of you might come back and say that he might have been in an emergency, etc etc. None, I caught him break the law on camera and in a human court of law he is guilty.
How do we fight against such nuisance, without putting ourselves in trouble? Social networking sites like Facebook have become useful tools for this. The New Delhi Police have setup their own facebook page where citizens can easily post the information with pictures on any issues
This is actually a easier way to post any photos you take, which can be evidence to help the police teams catch the law breakers. Since the photo I took was not in India, I decided to post the photo on my blog itself 🙂