Bangladesh show how an ordinary side can take eight Indian wickets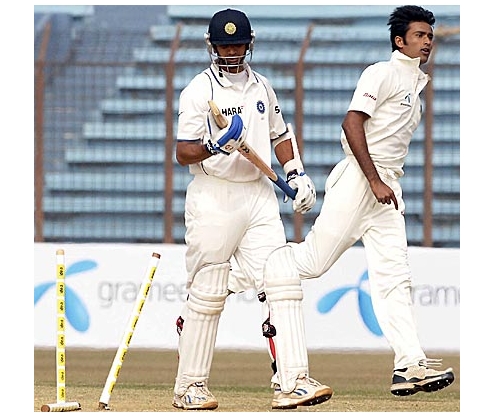 It was a very eventful opening day at Chittagong where India and Bangladesh were playing the first test match in this series. Shewag had made an interesting comment the day before during a press conference.
One of the journalists asked Shewag if Bangladesh can surprise India?
In response, Shewag said, "No. They can't beat us in Test matches, They can surprise you in ODIs but not in Tests."
Why? "Because they can't take 20 Indian wickets. Even Sri Lanka found it difficult. Bangladesh can't. ".
He went on to say " They are an ordinary side."
This shocked many journalists present there. Fast forward twenty four hours….
At the end of the first day's play, India are 213 for 8. Bangladesh bowlers have shown how an ordinary side can take 8 Indian wickets in one day. Shewag could be one of the most dazzling players in cricket today, but he is better off letting his bat talk, instead of his words.
Shahadat Hossain dismissed Dinesh Karthik for a duck and immediately gestured with his finger on his lips, as though he was saying enough of talking.
Though Shewag had scored a fifty and Sachin Tendulkar held his ground at the other end with 76 not out, it was Bangladesh who had won the day's honours.
During the end of day conference, Sachin rightly pointed out that the match was far from over. He fended off a question about Shewag's statement by saying "He [Sehwag] said it. You have to go and ask him. I won't be answering questions of that kind." When another reporter tried to ask a related question, he said "Lets move on to the next question". Sachin has managed to defend the situation in his style quite well at the press conference. It will be very interesting to see how he  manages to pull it through from here.
Eagerly waiting for day two.