I have been using Blackberry from the year it was launched (in 2000). Ever since the launch of iPhone, I have always been asked by many of my friends why I am still with Blackberry!
I decided to give iPhone a serious try and see if it fits my needs and the results are ready to be published to every one. Click the Read More link below to find out the details.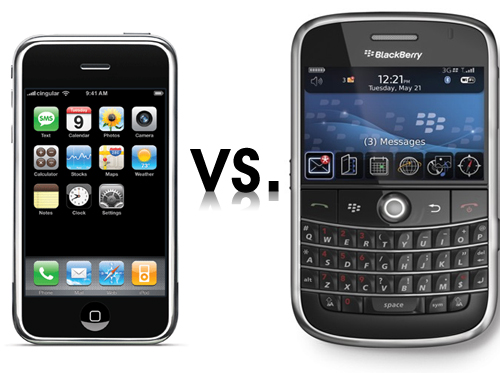 Background
I use Blackberry virtually for anything and everything I do online. Since it is my only mobile device that I want to carry and is also a part of my work, it is a necessity that I use this tool to perform everything for my role at work.
Applications on my Blackberry
The following software are installed on my blackberry in addition to the ones that come with it by default:
– IM+ – An instant messenger that allows me to be use my IM accounts with Yahoo, Google, AOL, MSN, ICQ, Skype, etc at the same time. Besides this, I also have a few contacts who message me only on my Blackberry Messenger.
– RDM+ – A small application that allows me to login to any of my registered computers from my blackberry. (I have this as a backup in case I cannot do something from my Blackberry itself)
– Open Beak (earlier called as Orangetame) – Allows me to tweet easily
– Facebook App – Allows me to manage my facebook presence – with tight integration into Blackberry email interface.
– Midphase SSH – A SSH tool that allows me to logon to the servers we manage and work on it.
Comparison with Applications on iPhone
I tried using my wife's iPhone to see what could be the equivalent applications available for the ones I use on a daily basis on my Blackberry
Meebo: Meebo has a iPhone version (but not a Blackberry version) and hence I realized that Meebo would be sufficient to take care of my IM needs – though it does not have Skype or Twitter integrated in it. Only limitation would be that my blackberry messenger contacts would not be able to reach me any more.
LogMeIn: I downloaded a LogMeIn app from the ITunes store for 29.95 and was able to quickly use it to connect to my registered computers. So this would take care of anything that I do with RDM+ on my Blackberry.
Twitter and Facebook Access: I know that there are 100s of applications available for Twitter and Facebook on iPhone and hence this is the least of my worries.
midphase SSH: I could not find one easily, but I am quite sure an equivalent iPhone app should be available to ssh into a server from your iPhone.
Deciding Factors
As it is obvious that there is a equivalent application for almost any Blackberry application on the iPhone, the following factors turned out to be the deciding factors due to which I refused to switch to the iPhone.
1. Typing speed: Typing speed is a very important factor for me. Nothing has proven to match the speed with which I am able to type on Blackberry keyboard. I tried iPhone and even spoke to many users who have used Blackberry before switching to iPhone. All of them agreed unanimously that the typing speed is fastest in Blackberry and iPhone is nowhere near it.
2. Run multiple applications: I have to run multiple applications at the same time. For example, when I get an email about a issue on a server, I have to reach my support team on IM and at the same time login to a server using SSH or even connect to one of the pcs using RDM+ to connect to my server inturn and investigate. Or sometimes, I have to check if a site is working and at the same time be on chat about the details about it. I do this with ease on the Blackberry with the button on the side of the device, which I have set to use for the application switching functionality on the Blackberry. I am not aware of any such equivalent functionality in built in the iPhone.
Due to the above major factors, I decided to continue with Blackberry for now. Inspite of my 10 years of loyalty with them, I would not hesitate to switch to the iPhone as soon as they find a way to improve the typing speed and the ability to run multiple applications. Oh one more, I also wish they can allow flash applets in their interface, as it is missing in both Blackberry and iPhone today.
Sorry iPhone, you just dont have what I need today!!
What is your device of choice and why? Let me know your thoughts.