Nina Davuluri is a person of Indian origin, born and raised in the US.
It is funny when I have to start an article with an important fact as there appears to be a huge discussion going on the internet on racism and related topics right after Nina was crowned Miss America 2014 recently.
As soon as she was crowned Miss America 2014, Twitter world was full of racial slurs, mainly due to ignorance. You can check out this link where Buzz Feed has collected many of these racial tweets to give an idea of the levels of ignorance on this topic.
This article is intended as a basic course about Nina Davuluri to those folks who have expressed their anger and frustration mostly due to ignorance about the facts behind Nina.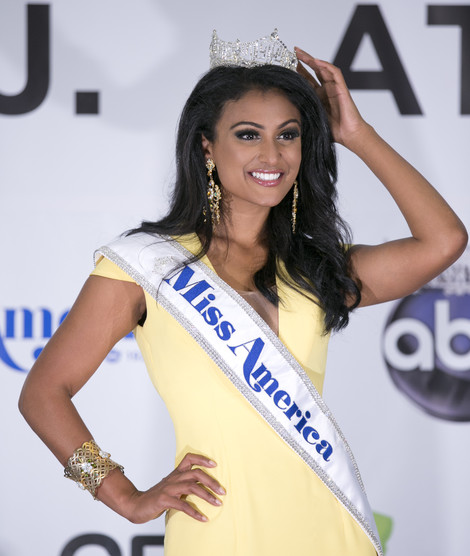 So here we go:
Nina Davuluri's parents are from Vijayawada in Andhra Pradesh, India and are not of Arab descent 🙂 .
Nina spent time graduating with a degree in Brain Behavior and Cognitive Science from University of Michigan – not in terrorist skills or links with Al-Qaeda 🙂
Nina won many laurels in her career already, some of which are being included in the Dean's List, Michigan Merit Award, and winning the National Honor Society Award. Do you still want her to serve you buffalo wings? 🙂
Nina has spent two years during her childhood in Vijayawada, but that is still ok to be called an American – from what I have read about her, she is 100% American at heart.
Nina was runner up in 2006 in Miss Teen America (I guess no one noticed it because she did not win it then, otherwise this refresher would have been obsolete by now!)
Nina won the Miss New Year earlier this year (Again she was not noticed – not sure why)  – one interesting fact is that Miss America 2013 was also from New York 🙂
Nina learnt Indian classical dance forms such as Bharatanatyam during her child hood – surely far away from the sniper attack or suicide bombing skills that terrorists get trained at.
Indophobia (hatred against Indians due to various reasons) is not uncommon in many parts of the world, but this one is mostly due to ignorance and the assumption that Nina was Arab and partly due to the racism factor. I am quite sure Americans know quite well how it is to be hated in many parts of the world due to various reasons!
It is quite obvious that due to various factors, such as the targeted terrorist attacks and economic instability in the past ten years in the US, some people are so frustrated that they cannot refrain from expressing their anger, in this case due their ignorance. I hope this article helps clarify some of these doubts.
To top it all, here is a simple response from Nina herself on this topic:
I have to rise above that… I always viewed myself as first and foremost American.
Now that the 101 is completed, it is time to celebrate Nina's victory – Congratulations Nina Davuluri, you have made all Indians and Americans proud – we wish you all the best to go on and win at the global stage.