Got a chance to grab a copy of 'The One Minute Manager' by Kenneth Blanchard and Spencer Johnson. I feel this is one of the best books that I have read, which is written using words and terms that are easily understandable by the common man.
This book recommends three simple One Minute principles
One Minute Goals
One Minute Praises and
One Minute Reprimands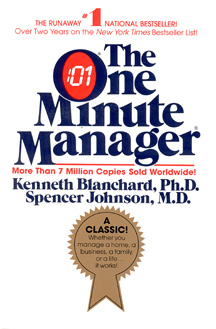 The style of writing in this book leads you into a story telling mode where the story is around a Manager who follows the above mentioned rules and successfully runs an organization. This reminded me of The Monk Who Sold His Ferrari, which also uses a similar style of story telling.
The narrator experiences each of the three One Minute rules, that are explained with examples by three managers who work for this One Minute Manager. This approach also shows how well each of the subordinates understand that this model in fact works, and helps them also mould into One Minute Managers themselves.
Finally, the narrator comes back to meet the One Minute Manager who explains 'why' these three principles work. Overall it leaves the narrator with a wonderful experience in the process of learning about these three principles.
There are very few books that have made me read it fully without stopping, once I have started reading it. This is definitely one of them. I liked quite a few quotes in this book and I am pasting it here, as I feel they are very powerful
People Who Feel Good About Themselves Produce Good Results
Help People Reach Their Full Potential; Catch Them Doing Something Right
Everyone Is A Potential Winner; Some People Are Disguised As Losers, Dont Let Their Appearances Fool You
We Are Not Just Our Behaviour; We Are The Person Managing Our Behaviour
Goals Begin Behaviours; Consequences Maintain Behaviours
I highly recommend this book to any one who has an hour or two to read a wonderful book. If you are around where I am and want to borrow mine, please feel free to let me know.