During the weekend, we got a chance to see Princeton downtown for the first time. Princeton is a beautiful university town, which is famous for a few reasons such as Albert Einstein was teaching in Princeton University, Princeton has produced some of the Noble laureates, etc. Over a period of time, Princeton University has become one of the most sought after place in New Jersey area.
We enjoyed the walk there as it gives a very different feeling. I felt like we were in a foreign country 🙂 . The streets have street lights that are old fashioned European style, like the ones we have seen in Sherlock Holmes movies in England. The entire downtown was filled with the latest fashion stores and as always had a Starbucks right there.
Since it is a university town, we saw a lot of students, and also most of the businesses there were targeted towards the college going crowd. I enjoyed one particular advertisement about improving your GPA 🙂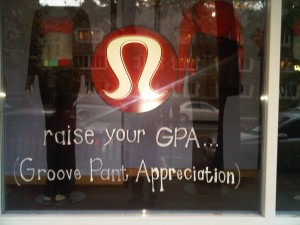 Princeton has grown into a very costly neighbourhood with the Princeton school district claiming to be among one of the top school districts in the US.  Here in New Jersey, I have seen many families plan and relocate to this neighbourhood to have a Princeton zip code so that the kids can get better education. Princeton's computer science courses also seem to have a very good reputation. Overall, Princeton does carry a brand vaue which goes along with it.
I was surprised to find an Indian restaurant there called Masala Grill. Though we did not eat there (as we had plans to go to Myilai Masala for dinner), I did take a snap of the restaurant name board from the outside. They claim they are a 'Innovative Indian Cuisine'. Will surely try this restaurant out one day and see what is innovative there!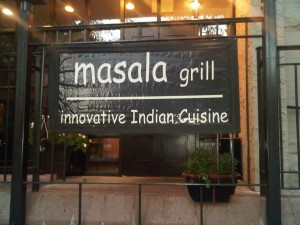 The downtown area, from the university entrance all the way to the end of the road, gave a wonderful feeling, not sure how to express it. If you happen to visit Princeton area in NJ, do try and spend an hour or two and let me know how the experience was.